Life has been taking priority over blogging recently. I didn't get as many pics in here as I would ideally like, but I think at this point I need to just get it done, seeing as it is no longer even February 🙃
In January I wasn't feeling fashion stuff much at all, due to I think a combination of burnout, feeling like my haircut was too severe for the slightly relaxed/crunchy vibe I've been into for clothes, and spending more time Doing Things and prioritizing comfort and getting out the door more. But here this is anyway, just in time for my February round up to be due.
Outfits
For posterity, a few outfits that I liked from the month (you can check out the full rambling thoughts on the corresponding posts on instagram):
My default fashion mood nowadays
Some true casual, but with some personality with the jacket.
Piling on all the winter accessories, but in California.
In retrospect I'm still not sure I completely dig the proportions here (it feels rather top heavy, despite the docs and chunky socks), but I really like the color palette and rich textures.
A sort of vintage-outdoorsy aesthetic inspired look. This one was really fun. One of the Theme WAYWTs on reddit was "outdoorsy" and I think that may have been the only time in the whole month when I felt some real excitement about getting dressed.
I regret not wearing this combo more while it was colder. The textures are on point but it's also just practical. I've also been wearing variants of this with the plain 1460s docs, which I actually like better because the cropped+high waist wide pants + mock neck + heeled boots makes me feel a bit like I'm sitting up on stilts.
Living my best follows-mori-aesthetic-tumblr-accounts-in-2014 life here.
Wear Counts
Accessories
Had a nice cozy month at least, with chunky knit hats, socks, and scarves.
Purchased
I purchased one thing. It was not on my wish list.
Burnt orange baseball cap with embroidered monarch butterfly, $17.99, Berkeley Horticultural Garden – Yeah I dunno. I don't think most people would peg me as someone to buy/wear a baseball cap, but I liked the color, subject, and normcore vibe of this one. As I've come around to the practicality of hats over the years, I was thinking that this would be a nice casual option for warmer weather when wearing the giant-ass wide brimmed sun hat is not really feasible (which let's face it, is a lot of the time). Baseball hats (or idk, is this particular flavor called a "dad hat" now?) aren't giant sails like full 360 brim hats. Baseball hats don't care if you cram them into your backpack. Will I actually wear it? Stay tuned.
I took this stock photo from some etsy store that sells the same hat.
Purged
None, haven't had anything that is a casual item that I don't wear anymore.
Purge Limbo
Honestly haven't gotten around to evaluating the storage bin for a while.
Wish List
[1] black chunky platform sandals – for when I want something with more visual weight than the Birkenstocks, but with a different vibe than the brown t-strap platform clogs. I was thinking probably one of the Dr Martens brand ones would be the way to go.
My reservation with those is that while I always think they look cool and punky and badass in photos, when I checked a few of the styles out in person they all looked really orthopedic. I suppose it comes down to the styling, but with casual sandals I'd prefer that I don't need to work to put together an outfit that doesn't feel awkward.
I'm also concerned that they might be hard to break in, and I'm not about the life of breaking in sandals when you can't rely on chunky wool socks to help if you want any hope of getting enough walking time on them before the sandal season is over (assuming that you don't want to wear that sweet footwear combo to the office, that is).
[2] taupe blundstones – I'm not sure whether I want to get the regular hi tops or the newer women's style with a slight heel to it. I went to the local REI to try some on but the shop guy said they are perpetually sold out. I don't want to order 4 pairs of Blundstones at once online just to try them on if I can help it, so I'm going to try and see if the SF Nordstrom stocks them. (Spoiler alert / you may have seen on Instagram, but I ended up getting these in Antique Brown in February.)
[3] work appropriate short dress with long sleeves and pockets – I continue with my perpetual struggle to find interesting dresses that I like which are short enough that I feel cute, but also in a style that feels low key and otherwise covered enough to wear to the office. I like the green poofy eyelet dress and the floral tiered ruffle dress, but I do think there's still a niche to fill for one that isn't as aggressively voluminous for days when I'm not feeling that look.
I think asking for that and pockets and the always-implied "and not made of smelly sweaty polyester crepe or chiffon" might be too much though. I find I often like more elaborate styles that also aren't conducive to hemming, and that also makes dress shopping frustrating.
[4] cashmere joggers – Normally I happily wear my 586 old t-shirts and one of my 3 pairs of joggers for loungewear, but after remembering that cashmere joggers exist via Invincible Summer blog, I thought that sounded like the best pajamas ever. Given that I wear sweatpants most days of the week as loungewear, that seems like a good place to aim for if I'm going to increase my life's average comfiness level. I was hoping to wait for a sale at Nadaam but the last one that came around had hardly any size choices left, so I may just get it new so that I can return it if it doesn't fit
Stock image from Nadaam
[5] cropped sweater – Even though I'm mostly good on how to tuck in sweaters now, a lot of the time I mostly just wish they were cropped. I have a terrible time finding truly cropped sweaters though since I'm 5'1″, and it's not like you can hem a chunky knit. (inb4 "knit one yourself!" – no I don't have time to take up knitting to the degree of a sweater) I might have to have another look at Urban Outfitters or one of those teen oriented stores. I had a cropped sweater once and the length was great, but the one I had was chunky with drop shoulders which resulted in a heavy round-shouldered silhouette I didn't like.
[6] circular sunglasses – been wanting a more aggressively fashion-y pair since last year. Figured a kind of 70s style circle lens style would be fun. I ought to get prescription ones but finding more stylized lenses that support corrective lenses is going to make finding a pair I like more annoying.
Stock image from Urban Outfitters
[7] cardigan with pockets – I want to be able to wear my floral dress but also carry my phone.
[8] small gold hoop earrings – sometimes the fake gauge almost-hoop earrings are a little louder than I want. I'm thinking of getting a second earring piercing on each ear too.
Stock image from Urban Outfitters
[9] striped long sleeve tee/sweater – I love my short sleeved striped rib knit tee and would like a long sleeve that works in cooler weather. The ones that seem to be popping up again in the 00s-does-70s sort of vibe are really fun, but as usual, the perpetual struggle is finding one in a trendier style that isn't made of polyester. (I'm not fundamentally against polyester e.g. in activewear, but in casual wear knit tops and light sweaters I've always found it to feel very stifling and clingy)
Stock photo of some random generic-amazon-brand top
[10] A cool graphic tee (probably with a white base) in a reasonably non-sheer/clingy fabric that feels like "A Fashion Tee, To Wear With Outfits, Outside The Apartment" and not "A Random Tee That I Got For Free This One Time In College".
I'm thinking of getting something from the Parks Project brand since they have a lot of vintage-inspired designs and I like the subject matter + the charity aspect, though admittedly I haven't done any research as to how effective/direct that aspect of it is.
It looks like I may have to dig for more substantial fabrics though, as based on the small sampling offered at my local Sports Basement + a glance at their website, even most of their men's tees offering seems to be the thin af soft tee shirt material that gets bunchy when tucked in.
[11] Denim jacket – I don't usually think of denim jacket being part of the nebulous and multidimensional idea that is "my style", but I've thought to myself enough times now "this would really work better with a denim jacket" that I think if I bought one it would pull its weight in my closet.
I'm thinking a lighter wash, looser fit style that will work well over layers. In particular, I think this would work well as a structured casual stylistically neutral option with all my tougher boots and my white sneakers on days when I'm not feeling like doing A Look, but the now-weathered field jacket would give it more of a grunge flavor. I don't have that many toppers I like with my retro tees right now, either, and I think this would work there too.
[12 – 15] TBD
Where are they now?
The usual spiel:
Home Runs – Frequently worn core item or it's a specialty item that induces unbridled joy (or at least, I actively like it) whenever I do have an outfit that features it
Hits – In regular-ish rotation and would rather have than not have it (i.e. the gut feeling test is if someone gave me a reasonable cash for it I wouldn't sell), but when it wears out I don't think I'll try to find an exact replacement
Misses – Hardly worn, not actively liked, probably donated/sold by now. If I still have it, I would probably be considering donating it
Chart summarizing these little retrospectives. I know it's ultimately squishy anyway since I bucket them according to my whims and not just how many times they were worn, but I've found that often it's more helpful to see how happy outfits or items make me rather than optimizing for wear count. I used to wear the same pair of boots almost every day and hated it, and that was part of what spurred me to do the recent wardrobe overhaul. I do look at the wear counts before deciding how to classify them.
This is all a bit depressing. Also I realized after uploading these that I probably shouldn't have made the green and red colors the same value because then I assume that RG colorblind people can't tell them apart much so I'll change it back next time.
Home Runs
WPM = "wears per month"

Also note that I calculated these on January 28th
Tan teddy fleece bomber jacket, small, Uniqlo U via eBay, $56.99, (30 wears or 2.5 WPM) – I knew I wore this a lot, but I'm still surprised that this made 30 wears. I guess it's not too surprising, since it's become my sub for a black puffer or softshell, which is what I used to choose as default outerwear.
Green and brown rib-knit striped t-shirt, Goodwill, $3.99, (23 wears or 1.3 WPM) – Possibly my best secondhand item ever in terms of how much I actually wear it. The green and brown stripes are great for adding easy cheeriness and the item is inoffensive enough that it works with most casual bottoms.
Black faux leather and suede snake buckle crossbody purse, Topshop via Nordstrom, $48.00 (21 wears, or 1.6 WPM) – Simple enough that it doesn't feel pretentious with causal outfits, but the hardware and structure also goes with dressier looks. Also, the snakes with the green faux gem eyes are awesome. I do feel like this looks like the cheap purse it is close up, but until I manage to find the astrology version of the Prada Cahier purse for less than a month's rent (ha ha) this one is fun and functional.
Said Prada bag: (if I was made of money, I would collect these)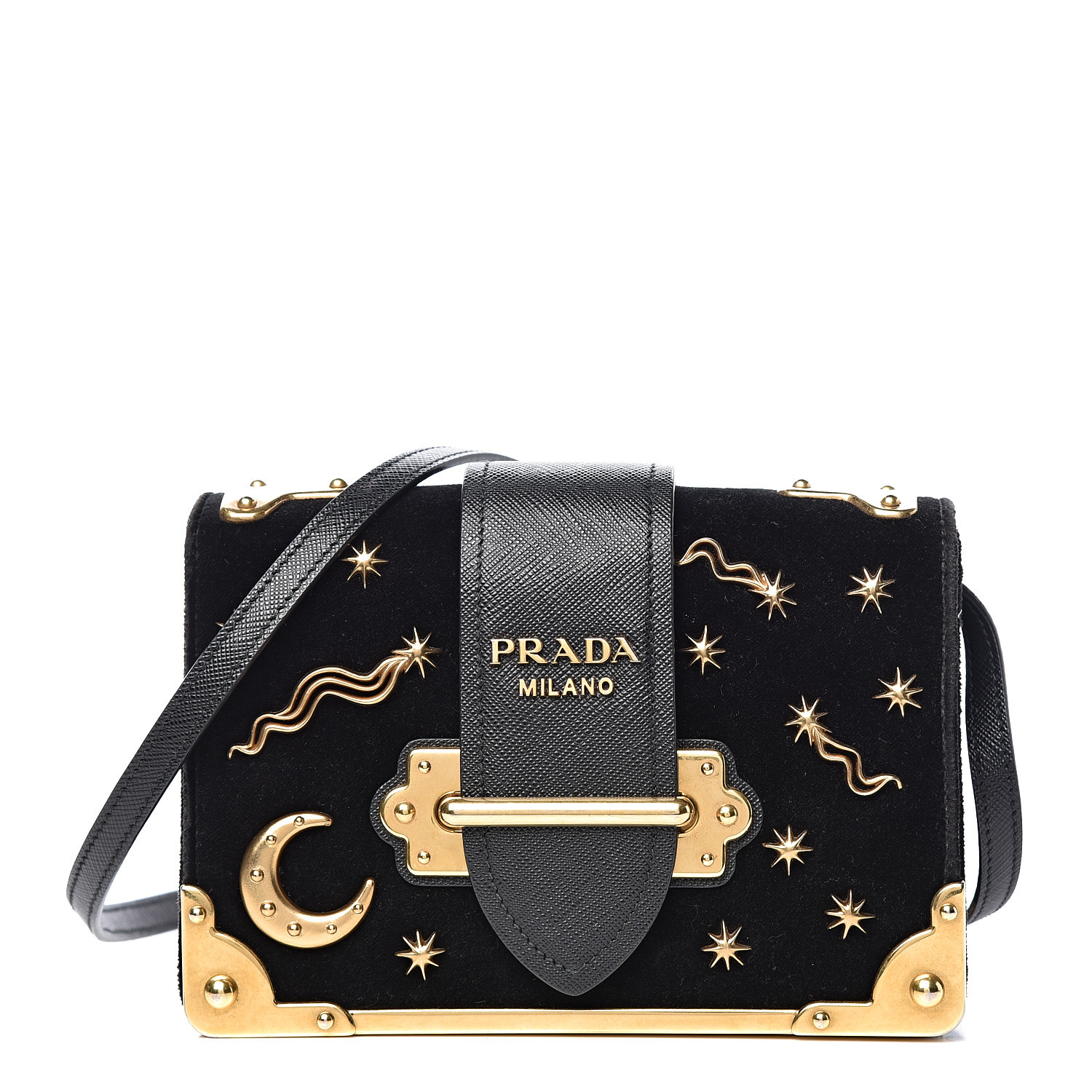 Green corduroy peg pants, Topshop via Nordstrom, US size 8 and 10, $68.00 each (19 wears and 8 wears, or 1.5 and 0.6 WPM respectively) – I feel like between these and my olive linen blend pants, green trousers have become something of a signature item for my online persona, and while I wouldn't have expected that, I'm not mad about it.
I am slightly annoyed that I opted to keep the size 10 version, which I originally got with the intent of having a extra chunky sweater compatible version. I've found that when the sweater is that chunky, pairing it with baggy trousers is a bit too relaxed of a look for my taste anyway.
I strongly suspect that given my stress-eating habits, there will come a point in the next few years where I may need the size up, so they're in the storage bin for now, as I also suspect that forest green, pleated front, high waisted, 2-button tab, wide wale corduroy trousers are not the sort of staple item I'll be able to just re-buy.
Plaid corduroy midi skirt, size 10, Uniqlo x Ines de la Fressange via Ebay, $45 (6 wears, or 0.6 WPM) – I don't know how to style this besides with a fitted long sleeve top, but it's fantastic at what it does.
Hits
Crystal and enamel snake brooch, Ebay, $7.19 (6 wears, or 0.5 WPM) – I never became A Brooch Person, but it doesn't take up much space and it's nice as a more decorative option than a safety pin.
Brown corduroy midi skirt, size 8, Uniqlo x Ines de la Fressange via Ebay, $45 (9 wears, or 0.8 WPM) – I was originally convinced that this was going to become a staple, but I think the main thing is that given a choice between this khaki and its sister skirt in red-orange, I'm almost always more drawn to the more saturated one.

Gray-brown checked scarf, H&M, $17.99, (6 wears, or 0.5 WPM) – I still really like the particular color and pattern of check on this scarf, but I think my platonic ideal of this type would be drapier. This one is almost like a felt fabric. It's really comfortable though. I think that if/when I ever move somewhere that has actual winters, I'd end up wearing this more, because when your jacket and hat are super chunky, a chunky scarf is just the thing (vs trying to wear it over a sweater or with a thin jacket here).
White vintage style tea blouse with shawl collar and rouleau buttons, US size 8, ASOS $45.00 (6 wears or 0.5 WPM) – This was one of my failed results from things I've taken to the tailor, as the sleeves were still too long even after they got taken up. In addition to that slight annoyance, I've found this is still slightly on the sheer side for the office, so I just can't get the wear counts in. I am glad I have it though, because on the rare occasion I want a white blouse, even with the sleeve fit issue, this blouse has so many design details that I like (covered buttons, shawl collar, sleeve volume, actual darts) that I'm happy to wear it overall.
Faux leather mini skirt, US size 8, ASOS, $32.00 (9 wears, or 0.8 WPM) – Since getting this, I got it hemmed to about fingertip length, which it turns out means it's too short to wear to anything besides "going out going out" (inb4 "WEAR BIKE SHORTS/JOCKEY SKIMMIES", I am in the habit of doing that, but the ones I have are a little too long for this and frankly at that point it means my ass hangs out unless I'm just standing up straight and I don't want that 99% of the time).
I don't think I'd ever had a short skirt hemmed before this, and I always recall in K-12 thinking that the fingertip rule seemed like it was even a bit long. I'm not sure if developing a butt is what makes it feel so much shorter or if I just didn't care that the skirt wouldn't provide coverage when sitting down.
Misses
Brown oversized blazer, Goodwill, $6.99, 1 wear – As mentioned in the original post, I kind of expected that this might be a just-try-it-out-and-cycle-it-back-to-goodwill thing, which it was. So while I didn't end up keeping it, I don't feel bad about this one.
Cream cable-knit wool cardigan, medium, Ralph Lauren via Ebay, $60.64, 6 wears 0.5 WPM – The short of this is that the cardigan was too warm to wear indoors and too drafty to actually use as a coat, plus it was just oversized enough to pass into not-cute-oversized because it hung weirdly. The pockets were also so low that I couldn't actually reach into them without pulling the cardigan up. This was a shame because the item itself was really well made (it puts anything else I've seen labeled chunky cable/aran/fisherman knit to shame), and one of my favorite outfits of all time included it. But it just took up SO MUCH ROOM and wasn't even suitable for loungewear.
Asymmetrical geometric enamel earrings, Glamorous brand via ASOS, $13.00, 3 wears 0.25 WPM – While I really like these as an art piece, I find that they don't mesh well aesthetically with the more earthy/boho/romantic items I have, nor the more casual/athleisure things. I still have them because a pair of earrings doesn't take up much space, but I won't be buying geometric style earrings anymore.
And we are still here
Originally, the idea was that by spending a ridiculous amount of time time and mental energy figuring out my wardrobe contents and outfit styling, I would eventually hit a point where my styling skills and wardrobe would be good enough that most of the time, I'd be able to put together an outfit that I actively liked.
I figured this would be the path, since I did a pretty similar thing with developing my makeup skills. I'm not going to be making a living as a makeup artist, but I have a decent idea of what sorts of products work with my face and I can bust out a decent smokey eye or a costume look if the occasion calls for it.
But most of the time, I just use a low effort brow gel and some lipstick that usually wears off by the end of the day. Maybe add some primer, concealer, and cream blush if I'm feeling like extending my morning routine (in a zen way). It's comfortable, but I'm happy because I know that (1) it looks fine and (2) is a choice I made and not simply that I don't know know any other way. A few times a year I pop over
But over the time I've spent furiously trying to exercise my fashion stylist muscles, I've realized that psychologically, clothes are a lot different from makeup for me in terms of expectations, because you can't escape clothes. Yeah, sure, you can argue that you can't escape having a face, either, but given the casual nature of my work and home neighborhood environments, if I go out without makeup, I don't feel schlubby at all. Also, with a light makeup look, there's only so much scope and impact it can have on my overall look.
But with clothes, everything has a much bigger impact, and even in casual looks there are so, so many more dimensions that play into things that I'm not sure that I can ever really feel satisfied with all of them given the constraints of a finite wardrobe. I have found that I'm at least less concerned with having most of my wardrobe follow the same aesthetic, now that I feel like I've got my eye for that area of styling pretty well trained, but in terms of just looking put together and reasonably on trend, but still relaxed and like I have a sense of fun with my clothes while also being serenely physically comfortable seems like it might just be too much to ask of myself. I almost never feel like my uncool looks are really a conscious choice to not give a fuck, but more of the state of things when I had to call it quits due to time constraints while trying to salvage some outfit.
At this point I'm seriously considering just moving the goal posts to just "did I wear some item today that I actually kind of actively like, and not look silly" instead of being super into my outfits every day. In the end, that does cover two of my goals for 2020, wear more difficult-to-style items more often and repeat more favorite outfits, since at this point I think I do like the items I have individually even if I still struggle to combine them
Anyway, I'm hoping to have the February Wardrobe Round-up posted within a week, so I can get back on track for March.