Fall weather is finally here! Just in time for…. December. Working on all the charts and stuff for the year in review post, so not as much expounding here.
Wear Counts
51 items of clothes/shoes, 25 of which were worn once. Too wet and cold for clogs now! The sandals will usually get a few wears if only for short errands even through winter.
I wore all five of my white sweaters! I should probably make that a goal for December too.
22 accessories and bags, 11 of which were worn once (as usual in recent months, I suspect I was not super exact on tracking these compared to the main clothing items). Pleasantly surprised at the 4 wears for that beret. I've found this one easier to wear than the red one, which has a stiffer band and is less slouchy.
Purchased
ASOS Design tiered trapeze mini dress in broderie in forest green, US 8, $60.00 – I love this dress so much it's going to get its own post!
I don't know why this picture is so fuzzy
Mark + James Badgley Mischka Metallic Stripe Long Sleeve Velvet Dress in emerald, US 8, $199.99 – Last November I ordered and returned a couple of holiday dresses and ended up just wearing my lace-back black neoprene godet mini dress with christmas-y accessories. This worked, but I still would prefer to have one other formal dress that was not black, and preferably had sleeves and was more amenable to layering thick tights if necessary (I always felt the sleeveless lace-back dress felt kind of shoehorned into winter looks).
This year the first one I ordered miraculously ticked all the boxes. Fit without requiring any alterations that would cost as much as the dress itself (i.e. this removes pretty much anything made of lace or with intense embroidery etc that would need hemming). The sleeves are a bit long but I find that they stay put well when just folded under themselves. The top could be worn without a pin but I'll probably be pinning or taping it for our office party.
I'm usually not too keen on wrap dresses. I know a lot of people think they are universally flattering but I usually just feel like they age me unless the skirt is like super mini length, and the cut just reminds me too much of lounge robes. This one had a more tailored skirt and waistband as well as button detailing on the cuffs that makes the top feel more like a proper blouse than pajamas. The fabric on this is also really nice. At the price range I shop at, unless I'm getting something secondhand the fabrics are usually pretty underwhelming, but this was really plush, fully lined, and the metallic stripes are Lurex thread and not glitter.
It's low key enough in the trend area (i.e. no giant puff sleeves with square neckline) that I think I should be happy wearing this to dressy winter events for at least a few years. It isn't black tie formal so I could see this working with booties and a moto jacket for something like watching a theater/ballet performance.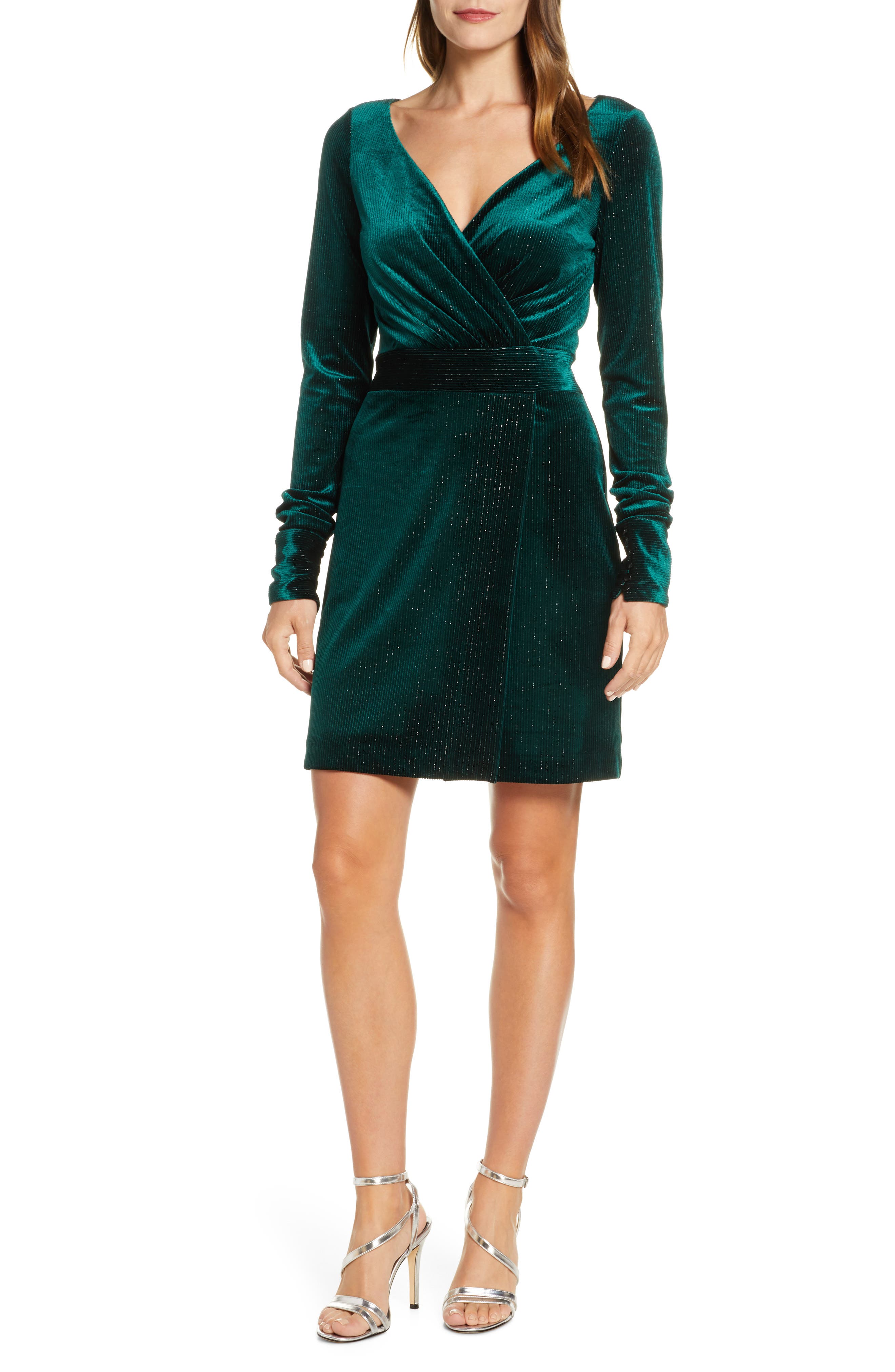 I suspect this model is at least 5'8″ but somehow on me this comes to about an inch above the knee. That's normally a little longer than I'd like a party dress, but when I raise my arms all the way it raises to just-acceptable mini length so I'll take it.
Topshop Caitlin Corduroy Trousers in brown, US 8, $68.00 – I liked the green wide-wale corduroy pleated trousers so much I thought it would be nice to have a lighter color option. These are currently out being hemmed. I've worn them out once already but it feels a little sloppy for work with the giant cuffs.
Uniqlo Heattech ribbed knitted tights in black, S/M $19.90 – I figured I could use one more pair. I have more dresses and skirts this year that I'm keen to wear into colder weather. I had 2 of these before.
Uniqlo Heattech extra warm ribbed crewneck bodysuit in black, $29.90 – I had two extra warm heattech tops which I found were not quite enough last year since I wore them under pretty much everything in the winter.
Halogen square neck velour top in black, M, $49.00 – AT LAST, a square neck top that can be worn with a standard bra, but also is low cut enough to not feel dowdy. Seemed like the black velour didn't pick up so much lint, and it's a nice plush pile too.
Purged
Madewell "Texture and Thread" tie-front t-shirt in olive – I don't think I ever wore this in an outfit that I actually 100% liked. The sleeves were a tiny bit too short and the cut was too long on me for my preference (the overall effect was rather droopy rather than oversized tee that was cropped cutely by the knot). This was the first and only thing I've ever gotten from the Texture and Thread line. I want to like it because I love texture, but the nubby fabric they use just looks and feels like a cheap dish cloth even after having a couple of months to get acclimated to it.
Charter Club orange cable knit lambswool cardigan – I was super excited by finding this for about $20 on eBay last fall, but in the end it wasn't oversized in a cute way, and I always felt like I had weird arm pads on when wearing this. It didn't quite work to be tucked in, was too boxy unbuttoned, but too low cut to wear as a sweater top on its own. The quality was really nice though. My local Crossroads Trading Co took it, and I hope someone who fits it better finds it. I've had this one in purge limbo for a while, but since I actually started wearing the new Something Navy cardigan, I decided it was time for this one to go.
The only outfit I ever really liked with it. And even then the cami peeking out underneath irks me a little
Old Navy Camis – I previously used some stretch cotton scoop neck camis as base layering pieces (I can't remember when I even bought these – possibly it was even back in high school), but I found I didn't wear them even once since getting into the whole actual thermals thing. These went to Goodwill. I feel like I should have turned them into cleaning rags even though they were in very good condition, but we already have a full drawer of actual cloths and decommissioned socks for that.
Ralph Lauren wool cable knit coatigan – This looks okay in the few photos I have of it because I took like five hundred photos and picked the nicest ones, but this thing was just too heavy for its own good on my 5'1″ frame. It draped oddly and the hem curved inwards which was more noticeable on outfits where the inner pieces were less substantial.
Also, turns out that the bay area just does not get cold enough to warrant wearing five pounds of wool at once (can't recall the shipping weight, but this thing is heavy!). Additionally, the pockets were too low for me to use with one hand – I had to hitch the garment up to actually reach into them. All in all, a beautiful piece (and only $60 on eBay, though I also had it dry cleaned as soon as I got it), but sadly just did not fit and was not right for my climate. One of my all time favorite outfits features it, but for the space it took up and potential to attract bugs, I didn't think I could justify keeping it for one glorious dgaf grocery run look a year. Crossroads also took this one.
Purge Limbo
These are in the queue for donation the next time I go to Goodwill.
Uniqlo soft blazer – I don't think I wore this in the last two years. I got it near the beginning of the first wardrobe overhaul phase when I wanted to make everything MINIMALIST STYLE and COHESIVE and GROWN UP but not too much, gotta keep that stretch. It's a nice item on its own merits, but jersey blazers are too … blah for the core items I have now. I expect that if for some reason I ever felt like getting an actual blazer, I would get, like, an actual blazer instead of a soft one. I'd previously gotten rid of this in the gray colorway but waffled on this one since black seemed more versatile.
H&M soft spacedye blazer – Similar to the above. I am sad to let this one go, since it used to be one of my core pieces and I'd wear it once or twice a week rotated with the Uniqlo ones. 2017 was the year of the soft blazers. I haven't worn it at all in the last year except for one week of interviews. And now I would wear other sharper pieces I have, or just get an actual blazer. I might consider holding onto it if the pattern was more tweed-y than space dye, but the space dye pushes it over too far into the loungewear feel.
Peak mgetsdressed 1.0 (Photo taken prior to having realization that to look more naturally awake, you have to slightly look down then look slightly upward but keep your eyelids neutral, not pull your entire forehead back)
Where are they now?
Changing great/okay/bad to home run/hits/misses because why not.
30% Home runs: either a core item that gets worn a lot, or an item that I'm super into whenever a more niche outfit calls for it
40% Hits: These worked out overall, but I probably wouldn't purchase them again
30% Misses: Stuff that didn't work out so hard that I've donated or sold them
Running list of home runs/hits/misses
10-2018: 65% 23% 12% out of 17
11-2018: 30% 40% 30% out of 10
Home Runs
Dr Martens 1460 boots, Bill's Footwear, $140, 57 wears – These have never quite inspired the same amount of pure joy as the patent leather pointed toe boots or even the plain pointed toe boots, or heck, even the brown granny boots, but they are useful to have and I often wear them on Saturdays to volunteering when it isn't hot since I don't care about stepping on animal poop in these (vs porous sneakers).
Black faux leather A-line skirt, Forever 21, $16.03, 12 wears – The badassery of (faux) leather skirts, but in a midi cut that I feel comfortable wearing to the office with sweaters.
T-strap pumps, Børn via Poshmark, $46.49, 11 wears – These pumps are great. They feel sturdy enough that I feel okay running in them for short distances. And while they're not an everyday shoe, they really bring the cutesy vintage aesthetic around when added to anything.
Hits
Red suede block heel sandals, Nine West via Zappos, $71.10, 4 wears – These are not good quality (the leather on the soles and on the loop for the ankle strap cracked and started peeling after 1 wear) and I wouldn't buy them again or recommend them, but I found that I really liked having a bolder color shoe option to go with my mostly black dressy clothes (on rarer occasions where dressy summery shoes are called for).
Green short sleeve linen blend button-down shirt, Goodwill, $4.99, 9 wears – The actual item itself is actually great quality (the brand is Christopher Banks which I've otherwise never heard of), but just found that the boxy button-down shirt style just isn't my style. Despite being overexposed to Madewell ads I still feel like a 90s mom in a bad way if I wear this with jeans. Occasionally I do want a collared shirt though, so this has been nice to have (and it doesn't gape at the placket either, the pro of it being so large).
You can see a little here that a looot of it get scrunched up in the tuck. Honestly isn't that bad in person/motion but it does not photograph flatteringly.
Green Christmas bauble earrings, Amazon, $11.19 – Haven't worn them since last year's office holiday party, but it's comforting to feel like I could instantly holiday-ify an outfit with these if I need to. Wouldn't recommend them because they are assembled crookedly but it wasn't bad enough to bother returning for the price.
4-pack wool blend chunky socks, Amazon, $21.19 – Don't wear these as much as I expected since I don't wear the pointed toe lace-up boots I got them for so much (they are harder to match with outfits than the rest of my shoes, turns out), but it never hurts to have a few extra pairs of thick socks.
Misses
Black sleeveless velvet maxi dress, Goodwill, $6.99 – I don't feel so bad about this one since it came from Goodwill in the first place. Ended up I just didn't love the scoop neck and wide strap style and felt that it could have used slightly more bodycon tapering. It was a really plush velvet though (and from the tag was made in the USA and seemed vintage) and was fun to wear the few times.
Embroidered mesh overlay dress, BaronHong brand on Amazon, $36.99 – I still really like the idea of this, but I decided that the maxi length was just too much trouble to get around in, and I also didn't like how the shoulder seams hit when viewed from the back. It made me feel very round-shouldered and doughy. Crossroads took this one. Hopefully someone tall finds it!
Brown cable-knit thin sweater top, Stradivarius via ASOS, $32.00
Came to accept that I don't like 3/4 sleeves proportion on myself. It makes me feel like my arms are simultaneously too short and too long. It also had a tendency to ride up a bit and look sloppily wrinkled. Also, I can't wear long sleeved thermals under it and it's hard to keep the sleeves from bunching up when putting on more fitted outerwear.
And that's a wrap for now. I am bracing myself to face how much I did not cut back on purchases in 2019.