Last weekend I visited the Dickens Christmas Fair at the Cow Palace in Daly City (or, as their promotional materials occasionally dubs it, the Imperial Bovine Residence)! I've seen ads for it around BART for years but I always assumed it was just some indie craft fair. I finally looked it up and learned that it was "120,000 square feet of theatrically-lit music halls, pubs, dance floors, and Christmas shops … in Charles Dickens' London Town" – basically, an immersive event, which is the best type of event. Specifically, it is set in "19th-century London as it was seen through the eyes of Charles Dickens. Though Mr. Dickens' writing spans a good portion of the mid-to-late 1800s, we are setting our costume timeline to the years of 1842-1863". All the fun, none of the disease!
This year, it runs on weekends through December 22nd. It'll run you $32.00 and there's a convenient free shuttle from the Glen Park BART station.
In this post, I share what I wore, a capsule inspired by the period Christmas garb, and some photos of the event I took. I will not extensively cover mid 1800s fashion but there are links to more reading on that if you want to go down that rabbit hole.
What I wore
Visitors are encouraged but not required to come in period costume. As I don't own any garments which attempt to recreate the mid Victorian era in any kind of accuracy, I decided to go for an outfit in the spirit of the event, but which wouldn't look too out of place getting to and from the thing.
Here I am, very pleased to be there:
And a photo in the usual fashion:
Honestly this is about 99% the same as a bunch of boot + midi skirt + drapey coat outfits I've worn previously, but I did like the holiday flavoring. But since I enjoy doing an outfit breakdown, here are the elements that I considered when putting it together:
Festive Christmas vibes
traditional color palette of red, green, and cream
a nice winter plaid
fair isle reindeer scarf
wintery fabrics (wool, corduroy, velvet)
Old timey feel
lace-up Victorian inspired boots
a hat or at least a hair accessory

my headband collection has grown a lot in recent months, but I went with the padded brown velvet one because the braided velvet one felt too medieval and the scarf style ones felt too rustic
my winter hats are pom pom beanies and berets which I felt had enough style associations they would take more away from a generic Victorian inspired look than no hat

Full skirt / No jeans

while I love jeans as a way to make historically inspired blouses more wearable in a casual context, I felt that a low-key outfit with a skirt would be more in the spirit of the style

No zippers or performance fabrics

i.e. it's coat time
went with the drapey coat because the loose shape smooshes my midi skirts the least. I think ideally I'd have had a petticoat of some kind for the skirt today, when bigger is better
Keep it easy
relatively casual fabrics (i.e. no satin or tulle ruffles)
flat shoes or block heels
since I had a longer skirt, no voluminous sleeves
no hats that are so esoteric you couldn't get them at a common department store
Mini Capsule
Some other items and elements that I think would work well for this sort of Dickensian London inspired causal wear:
puff/ruffle sleeves with soft shoulders
i.e. something more like this vs having the puff emphasizing the shoulders
shawl/poncho style outerwear
soft, voluminous bottoms
plaid? For some reason I really think of plaid for winter. There was a fair amount of of plaid/check in the actor costumes but I have no idea how common that actually was
pussy bow blouses (if you're not gonna wear the bonnet, a bow with a soft updo and/or hair accessory can be a nod to one)
lots o buttons
mock necks
While a high-neck white lace blouse is possibly the zeitgeist of women's Victorian dress after the corset, I think because of that it really easily tips things into a full costume look, so I would actually avoid that here where the goal is to have an overall look reminiscent but not replica of the period without any aggressively anachronistic things like sneakers. In this context, IMO blouses in not white, or a white mock neck knit tend to feel more like "just clothes" when paired with other lightly themed items.
So just for fun, a mini themed capsule and a couple of outfits inspired by that Dickensian Christmas #aesthetic
Not because I'm trying to get you to buy stuff from this paper dolls exercise, but because people often ask: I found all these items by searching for descriptors like "plaid poncho" "check poncho" "tartan poncho" "pleated culottes" "puff sleeve sweater" etc on Pinterest, Google images, Nordstrom, and Lyst. Current stock items are the green sweater  (Leith), red boots (Treasure & Bond), and black boots (Steve Madden) and you could probably find some of the Uniqlo stuff on Poshmark/eBay. Can't actually recommend any of these (except the plaid Uniqlo x IDLF skirt! which is awesome if a bit tricky to pair in my wardrobe) or not because I was just selecting based on visuals and availability of flat images.

For more actual early-mid Victorian era fashion history, check out the links in the fair's Participant Costume Overview. Also join me in wishing to have witnessed the incidents that caused them to specifically call out furries and stormtroopers in their no go list.
I'm really into capes right now, but as it doesn't really make sense for me to start collecting them (not a good pairing with laptop backpacks…), instead I just play paper dolls with them. The mid 1800s look seems to have a lot of capes and shawls vs jackets.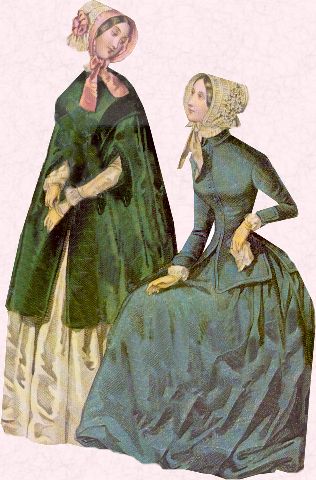 Emphasis on soft shoulders, and everything has a bit of (relatively austere) embellishment
Since we can't really do floor length dome shaped skirts, let's go with fuller bottoms in fabrics with some drape.
Shoes and accessories, the best part (besides outerwear). I can't remember where I first learned about it, but Chelsea boots originated in the Victorian era! I'm not sure when they were adopted as a women's shoe. I'm not sure if the poinsettia is a brooch or hair clip but I think it'd be cute either way.
As usual, I made it a point to get a variety of colors/color values/textures/prints in each item category to keep things from becoming too repetitive.
Some outfits
PLAID on PLAID, why not
All the buttons and eyelets
Red Riding Hood Steps Out
I think mock necks would work better with the poncho/cape style outerwear to better distinguish the necklines from each other, but this is the best I got since I can't pump out my own publishable illustrations.
Kind of a Lady Sherlock look
I think this one feels the most Victorian to me
Nice and easy
I'm not running out of commentary, you're running out of commentary
At the fair
Some photos of the local happenings. I would guess that about 20% of the people there were participants or visitors in costume, which was surprisingly enough to maintain an overall immersive feel. Visitor dress was a bit more varied, lots of random steampunk or corset with a ruched skirt and docs sort of looks.
Lots of top hats, waistcoats, and bonnets
They had a "fencing academy" section where people could try out a bit of fencing. I wouldn't have thought to have something like this set up, but that actually is pretty awesome to introduce kids to it. Nice way for whatever gym this is to get some potential new members, too.
I started fencing in college (it never really occurred to me until then that fencing was something you could just … do, but our club was in a relatively chill and cheap league where most participants didn't start until college) and I'm pretty sure we didn't even get to pick up any blades until a few weeks in because if you're really going to do it properly, good footwork is like 80% of it.
(I was terrible and was literally tied for last place in every tournament I ever participated in, but it was a neat experience.)
More of a medieval vibe than Victorian, but I think this stall is what I aspire for my vanity to look like
Some themed carnival games. There were also short plays, singalongs, and misc other performances throughout the venue which were all free. I didn't really sit down to watch any of them but having a bunch going at the same time made for a lively atmosphere.
Pocketwatches for sale. All the vendors were in character and would wish you a Happy Christmas (I think Merry Christmas wasn't used yet then). Tbh in having/overhearing extended conversations it was pretty clear faking an accent was pretty tiring for a lot of them. Personally I would have preferred if they just kept that element to actors and performers with specific bits because I can see how some of the reviews mentioned that aspect of the fair became grating.
Another one of the "well the weirdos who are here to dress up as / gawk at people in semi historical garb talking in bad fake accents would probably buy this" stalls (a wand shop)
(I say that lovingly, as one of those)
My favorite sign was this one "NEW EXOTIC SAVORIES INSPIRED BY JOURNEYS TO THE EDGE OF THE EMPIRE / curry lamb pie / macaroni & cheese pie"
This place seemed to be the most popular for food, and the chicken pie and scones were indeed delicious. I wish there were more places that did savory pies in the US. The only shop I know of around here that specializes in that is Peasant Pies on the UCSF Mission Bay campus.
I hope you enjoyed the fruits of my procrastination on the November Wardrobe Round-up and going to bed early. If you're considering going to the Dickens fair, make sure you check out the FAQ on their website as well as reviews on Yelp to decide whether it will likely be a fun thing for you, since the ticket ($32) + parking ($12) or public transit + food costs can start to add up. I really like this sort of thing and I can see myself coming back probably on alternate years. Wish I had checked it out earlier!