This round-up of links features a monetary argument against joining the influencer bubble, Spongebob but make it fashion, an exploration into the origins of the puff sleeves + square neck trend, and more.
"The Milkmaid" by Jean-Baptiste Huet, wearing Reformation wait no

Dan Trepanier was one of the OG fashion bloggers, pre-Instagram, who successfully transitioned into owning his own clothing business. He wrote a fantastically detailed post addressed to all the low-effort solicitations he gets from influencers wanting to "collaborate". It's super specific and breaks down the business dynamics of influencer advertising and does some back-of-the-envelope calculations showing that influencing is simply not a feasible way to make a living for most people. Even if you weren't considering starting up your own ootd account as a side hustle, it's an interesting read.
I explicitly decided when I first forayed into fashion blogging that I had to be motivated by personal enjoyment and not by money, because the amount of time and effort it would take to even get a nontrivial amount of actual cash (vs a free item) is absolutely not worth it.
Tyranny of Style is a blog written by a senior costume designer at Disney, and he interviews other costume designers for productions from movies, TV, theater, and video games. It's one of my favorite sources of fashion-related reading material that I've found, because the process of costume design involves being able to distill the abstract idea of a character and then materialize it, similar to the translating styleboards exercises I sometimes do.
Truly, we are living in interesting times. I love Spongebob, but my first reaction to hearing that it had been turned into a Broadway musical was "OH GOD NO, NO, WHY WOULD ANYONE DO THAT? THAT'S GOING TO BE AWFUL." But the article delves into the designer's process of adapting marine life cartoons' looks to charismatic actors who would not be in character suits, and the final results were really creatively done.
Also, I was introduced to the contraption that is the extra legs they attach to the Squidward actor, which themselves are so amazing that they should probably have won a Tony for Best Supporting Actor.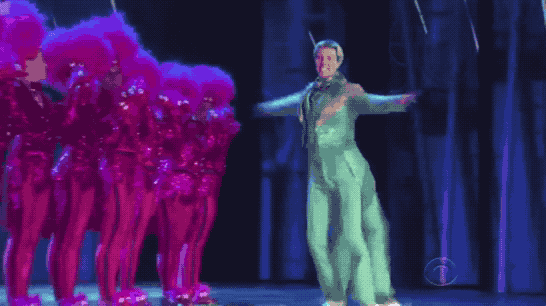 Tissot was a contemporary of Degas, and he made some incredibly detailed paintings, including many featuring fashionably dressed women. "Our industrial and artistic creations may perish our customs and our costumes may fall into oblivion, a painting by Mr. Tissot will be enough for the archaeologists of the future to reconstruct our era" level of detailed.
Something of note (and the fact that it is of note is already interesting in itself) was that he often painted the same outfits in multiple paintings.
The article is a summary of the history and themes of Tissot's fashion-related work. The exhibition is on through February 9, 2020 and the museum is free on Saturdays for all Bay Area residents.
I visited in October after being intrigued by this article (I hadn't heard of Tissot before then) and the paintings are even more striking in person when you can really soak in all the details. I also inadvertently matched the feature painting, "October" 😂
Reddit r/malefashionadvice: u/Chuckflowers22's inspiration album and starter tips series on color combinations
(red x green linked, previous ones linked in that comment) u/Chuckflowers22 (or @igotacamerasoimartisticnow on Instagram) has been curating example outfits demonstrating different color combos like red x green, blue x yellow, which are a little less approachable but often within reach from the average guy's wardrobe (vs like, orange x purple). 👀 I also had the honor of making a cameo or two in the albums.
Since I'm into the whole outfit breakdown thing, I particularly liked the write-up he included that has a basic primer on color theory and some tips on how to start incorporating new colors into your outfits. It is mostly menswear outfits, but the concepts are applicable to any outfit.
The comments are a little rough but that seems par for the course on any of the male user dominated subreddits.
If you have gone shopping in the last six months you have probably noticed a proliferation of those low cut square or sweetheart neckline blouses with poofy sleeves. I am HERE for all of them (well, realistically, for the ones that are actually cut to be compatible with a standard bra, which is sadly not most of them) and enjoyed reading theories about why they are so popular.
Tldr: probably because they are flattering and that romantic escapism is particularly appealing among everything else that's happening nowadays. As someone who explicitly considers storybook escapism a major feature of my primary style, I can agree with that. I might ride the subway into the city and take an elevator up to my desk in an office building five days a week, but I appreciate that I can dress like I'm about to go on a whimsical adventure instead. Do you have any outfits or items that are your version of an escapist respite? What does that look like for you?
For a more general and in-depth view of the trend ecosystem, I recommend Jenny Lantz' book The Trendmakers (she is an actual researcher and this is a legit book, not something out of Buzzfeed et al).
Some thoughtful notes other folks around Instagram have shared about their outfit of the day. (Instagram post embeds don't seem to render in email, so if you're reading from your inbox, click on over).
@coffee_for_dinner in a striking monochrome + pop of red look
@nitrochique wears a clever interpretation of a strawberry matcha boba tea drink
https://www.instagram.com/p/B4PzFBrlY2D/
@georgie.ootd talks through her decisions for items head to toe and how they affect her feelings on the final look
Gonna try and make the links round-up more of a regular thing again, though I may have to limit myself to like three links because this is already slightly over 1k words 🤦. What fashion-related reading or videos have you been into recently?