Okay I LITERALLY typed up the ENTIRE post, around 2k words, then the wordpress editor decided to delete the whole thing during my final edit when I was trying to fix a caption, and no amount of cmd+z would bring it back. I had something like this happen before, but I had decided that the extra time it took to reformat everything and keep consistency between a google doc and wordpress was just NOT worth it. I'm sorry but I don't have another two hours to spend on this, so I'm just going to post the photos again without the extra in-depth descriptions. I'll still include some thoughts but more in a hasty notes style rather than well-worded prose.
I do post thoughts on how I styled them each day on Instagram, so if you're interested in reading more or seeing where the items from an outfit are from, you can head over to https://instagram.com/m.gets.dressed. I guess my lesson learned this time is to just not trust the caption feature because it's been the most ornery part of their UI 😭
One of the things I had written about was that I'm finding that it's good to think about whether frameworks you've put in place to help you with a wardrobe overhaul or be more adventurous in outfit styling (e.g. only buying certain colors, not wearing the same shoes two days in a row when logistically possible) are becoming more trouble than they're worth in terms of what you're learning from doing them, such as the way I used to evaluate each outfit in my posts by how much depth (texture, layering, etc) and whimsy they had in a checklist. I'm not going to do that any more because I'm finding it's more helpful to just think of each outfit in its own context. I'm also finding that I'm feeling more inspired to do fashion looks from other outfits.
This month: more variety, but still feels like my own style. I still haven't managed to put my finger on what it is that makes it distinct though.
A Stranger Things 3 inspired look, specifically the crew socks + sneakers combo. Love how the colors turned out. Not too Christmas-y with the olive and incorporation of burgundy, and the colors are evenly distributed through the outfit which visually pulls it together.
The shirt says "TCEA 1986 State Programming Contest" and I got it from ebay a while back.
I really love the costumes in this show.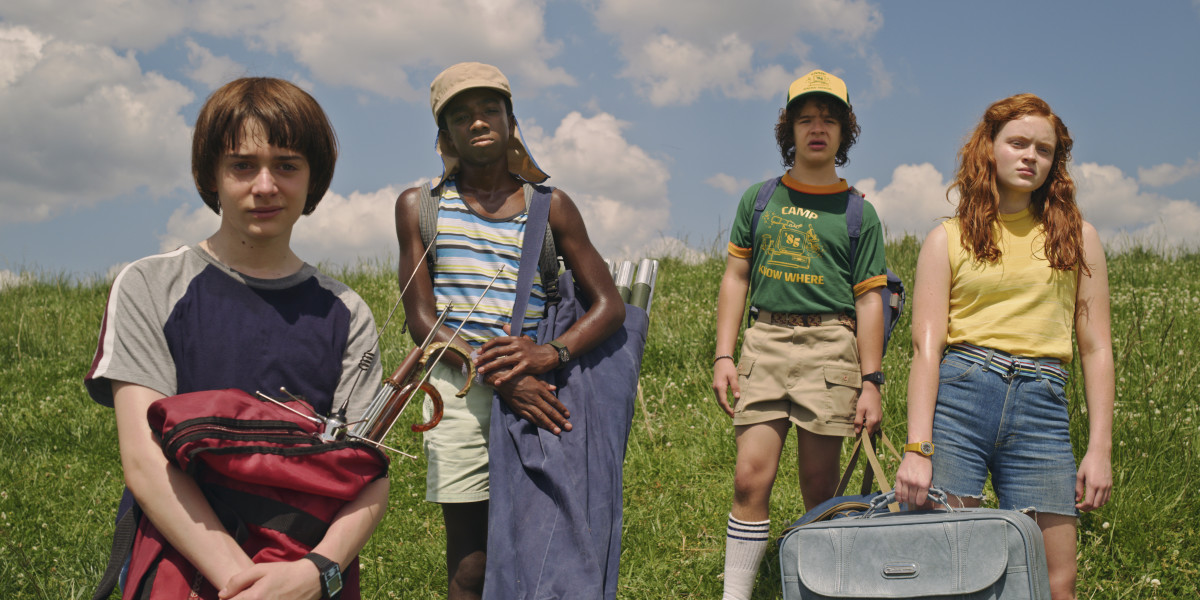 Standard summer goth look. Like the layering, but it's a bit top heavy visually. Some distressed denim would be great for balancing it out, or flatform sandals.
Close up of layers.
Beachy outfit from the same day. I like how there are smaller scale details throughout the outfit like the hat band and the print on the shorts.
Cheery sunflower style! Square neckline and structured shoes help keep it from feeling too loungewear. Love how the circle tote keeps with the sunflower motif.
Bee earrings for a flower-adjacent motif and fun mixed media
Indiana Jones style after watching The Last Crusade on Netflix. If high volume outfits feel kind of overwhelming, I often find that adding a hat will somehow make the base outfit feel smaller, because your head is proportional to it.
Standard Birkenstocks (Arizonas) would have worked better here because they're visually heavier but I think the Mayaris still look nice.
Compare to this outfit without hat. I'm trying to get used to sneakers in Fashion outfits more for my poor calves health. Noticed that I usually like sneaker fits more when the sneakers are low profile like Keds or super statement sneakers like FILAs.
Seriously though, that 17″ inseam is so much fresher. Also prefer how I've styled this top recently with the sleeves up.
A look based off the tights, which reminded me of the triangle mesh you often see in computer graphics. Ended up unbelting the dress, which I shortened at first because I wanted to show off more of the cool tights. It lay better and was more comfortable. Don't have a lot of sleek sci fi sort of pieces, so I went more grunge. Cyberpunk lite?
An m.gets.dressed classic look if there ever was one. Belt really helps coordinate the look which I think otherwise might get overwhelmed by the pants. I like how the pleats on these give it an additional visual element so it's not just swaths of fabric.
The go-to "I need to look nice today" dress. Liked it better styled in last month's post where it was a bit more lighthearted-adventure/storybook style than prep (especially with the trench), although I do think it was a nice smart look here.
Can't let the tulle skirts rot in the closet. Wore this to the office. I like pairing the brown suede jacket with florals for an earthy feel, and it keeps it from being too moody since the rest of it is so dark.
Pink tulle skirt for a Trader Joes run because I live that kind of life now. I've been realizing that for the more extra pieces, it often works better to go all out head to toe for an Intentional Fashion look vs "I'm 14 and my mom got me this from Hot Topic after I begged her for three months". e.g. instead of a plain soft tee, something with a bold element. Liked the double art motif here (The Great Wave! Hieronymus Bosch!) and also that I got to bring out this tee from the 2009 high school county swim team championship meet.
I looked a a lot of outfits on the #tulleskirt hashtag on Instagram and played it safe for this first outfit with a classic punk/fairy contrasting styling.
A more neutral pose.
Love the celestial motif and the finished waistband. A lot of the ones I saw had raw elastic waistbands which felt very cheap and costume-y in a bad way. This skirt is available here (sadly it's a OS item).
Living my best space fairy life, and I'm pretty happy about it despite having lost a battle  to my arch nemesis, the wordpress editor.
What's the silliest thing you try to wear on a regular basis? Do you have any frameworks that you try to follow when putting together outfits or curating your wardrobe?