I've moved the outfits section out into its own posts!  See
February 2019 Outfits Overview: Part 1
February 2019 Outfits Overview: Part 2
Wear Counts
I wore 43 items of clothing (down a bit from 46 last month), 36 of which were worn once (84%, up from 50% last month).
Feeling pretty okay owning six white sweaters seeing I wore 5 of them this month, each of those at least twice ¯\_(ツ)_/¯ Got more wears in of the long wool-blend coat from the trip to NYC. It's usually not cold enough here to bust that one out.
I wore 40 accessories (down from 44), 36 (90%) of which were worn once. 10 were shoes (same as last month), plus one wear for my utilitarian rain boots (filtered out).
Purchased
Treasure and Bond Tassel bandana kite scarf, $29.00, Nordstrom – I really like my green chunky knit tassel cowl scarf, and I thought getting one for warmer weather would be nice. I love the idea of this one but in the two outfits I tried it with, I was not happy overall because the base outfits were not cute (not terrible either, but just kinda meh). I'm hoping I can find some ways to style it that I like, but if not I guess at the worst case I could use it to jazz up one of my crossbody bags.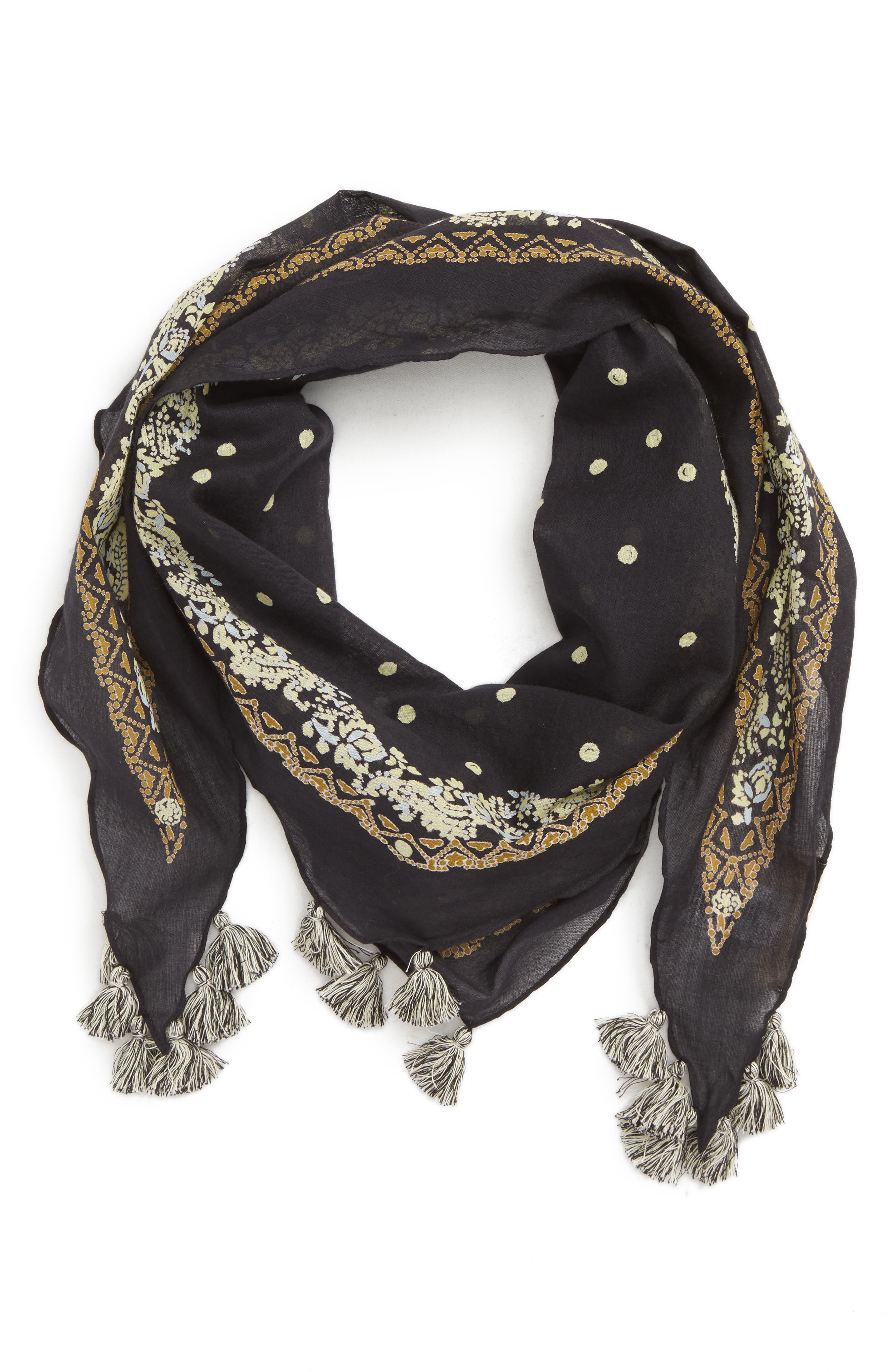 Modcloth space dress, $12.99, Goodwill – this was like my dream item back around 2012, but I didn't have the $$ for it. But now I have the $$ for it, I realize it's not worth the sticker price of ~$80 with shipping because it's made of cheap-feeling unlined fabric. Even if it's an awesome dress, it is not versatile enough that I could bring myself to cough up that much. But $12.99 is great!
Brown pointed-toe lace-up boots, $179.95, Seychelles via Nordstrom – I wanted a fashion-y but fairly walkable boot option. Criteria was "vintage vibe lace-up boots, but daintier than a straight-up combat boot style" and
~2″ block heel
pointed or almond toe
>=5″ shaft
medium warm brown leather
"comfortable enough" (i.e. doesn't have to be a comfort brand, but should be fine to get to work in)
easily returnable.
These ones fit me and fit these minimum criteria but not any of my nice-to-haves including
some shaping on the heel
a slightly more textured leather
some stitching detailing
hooks instead of grommets for the top two shoelace holds (basically, cute vintage details).
Doesn't seem like this style of boot is very common, so I just went ahead and got these. I found a few other options that looked nicer but were either from shops that didn't take returns or literally cost half a month's rent. I do like the detail of the floral print on the boot lining. I don't like that these are a bit scratchy around the top. I'm hoping that will get better over time. I was also considering the "Lucy" boots from Frye. Those are a over budget but certainly good quality, but they were a little more rugged than what I was going for.
Taupe ankle boots $99.90 (at 30% off), size 7.5, Børn, from Nordstrom (more colors) – I was really on the fence about whether to keep these because my original goal for my next boot purchases was that they would pair with my wide-leg pants, and as a lower-shafted round-toed boot, I don't think it looks very flattering in that combo. But I don't have any boots that are a light color value and overall I think these would bring a lot more variety to my looks even if I can't pair them with loose pant styles. As usual for this brand, these are very comfortable, although they are intrinsically not as comfortable as a full block-heel style. I love the cone heel as a style detail though, so that's okay with me.
"Joe" lace-up boots, $160.00, Jeffrey Campbell for Free People via Poshmark, size 8 (apparently runs a little small) – I've wanted these for over a year after periodically seeing them in catinawitchhat's outfits. Found a pair on poshmark in the sub-$200 price range which I'm really hoping fits and doesn't have any unpleasant condition surprises. Very excited about the possibilities for these boots but I'm also trying not to get too excited in case they don't work. It just shipped, so hopefully you should see some outfits with them in a week or two!
Honestly if I had a spare closet (and more spare time), I would love to start curating a secondary fantasy-witch wardrobe from secondhand pieces. It's the sort of style that really lends itself to mix-and-matching the sorts of things that are easy to find in a thrift store because it has a lot of looser layered textured pieces + belts.
Returned
I was on a quest for another pair of not-black shoes. I was considering getting a block-heeled pump in addition to brown/taupe boots because I have sometimes thought while getting dressed, "this would be nice with a shoe with a lower vamp" (to extend that leg line) but my strappy flats did not work for some reason.
Green block heeled pumps, $76.77 size 7.5 Botkier from Nordstrom – these were pretty comfortable on (for a pump) and the color was gorgeous, but they seemed like they would very likely slip off when going up and down stairs, which is unacceptable. Even if I'm going to do fancy things in SF I will always take public transit at least on the way there, and the last thing I want is to have my shoe fall off in the nasty subway stairwells.
Nude block heeled pumps, $99.95, size 7.5 Linea Paolo from Nordstrom – these fit well and were a great nude tone match for me, but they chafed a little too much and were not comfortable after standing around in them in my living room even for just 30 minutes.
Purged
Donated 7 things this time around. I donated 26 items last month and bought 14 items (yikes… it never seems like that many, although 4 of those were smaller accessories… looking at the post I realized I forgot to log my costume gloves that I bought at the Edwardian Ball, but I'm not sure I should classify those as a wardrobe item rather than a costume thing anyway) so for 2019 I'm at -13 pieces. I've been aiming for at most a +0 delta (preferably shrinking the closet overall) for the whole year so that's some progress.
Black oversized "double-L" LL Bean cable-knit sweater size L, 14 wears since Jan 2018 – I got this from consignment I think sometime last year, but I never reach for it because I have plenty of other comfy sweaters that fit better and I've found I am not a fan of wearing so much black anymore. This one is too oversized to tuck in nicely and I'm over keeping sweaters that only look nice with black leggings or skinnies and black boots. I also have other oversized sweaters that are warmer. This is a really nice quality piece and very comfortable so I'm a bit sad about letting it go, but I just don't have room for it.
Eileen Fisher gray merino sleeveless mini dress (from Crossroads consignment), 4 wears since Jan 2018 – this one is very well made and super super comfortable, but like pretty much everything else EF I've gotten, I've found that there's just something about the cut that makes me feel really dowdy even though it's a mini dress. I was willing to try and work with it at the time I bought it, because the quality was so nice and it was very comfortable, but it hasn't worked out. I've always felt it would look better with a crew or mock neck or a deeper v neck. I have some items that I really don't like, but still end up wearing a lot anyway. This one I don't particularly like, and also don't wear, so it's going back out into the secondhand market. It really is very nice quality though, so hopefully someone else who will like it more can get it.
ASOS petites black jersey mini swing dress, 3 wears since Jan 2018 – I used to really like this one, but it is now just feels so blah. It's black, a thin and flat fabric, and very plain. It also is not practical because the lightweight fabric blows upwards easily in the wind.
Thrifted brown blazer, 1 wear – I had a lot of fun figuring out a few outfits to style this in, but frankly it's just too bulky for me to get really excited about wearing it. I think thinner non-padded blazers would integrate into my wardrobe better. Back to Goodwill it goes. Not mad about this one. I'm definitely open again to getting some cheapo thrift items just to practice styling with even if they just go back.
Uniqlo gray rib-knit mock neck top, 4 wears since Jan 2018 – this was very heavily worn in 2017 as a layering piece or in a simple outfit tucked into jeans with boots. But I've found that now that I have so many sweaters as well as a few layering thermals, I haven't reached for it. The sleeves are also a bit too long and it's not quite fitted in the torso so I also feel kind of sloppy when I wear it, and I definitely don't like it enough to want to bother getting them hemmed.
ASOS handkerchief hem tunic t-shirt, 2 wears since Jan 2018 – I was so convinced that this was going to become the "extra basic" staple in my wardrobe back when I was in my minimal witchy style phase. It's really comfy and I like the idea. I think I'd have worn it more if it was actually long enough to be a proper mini dress, but alas the cut was about 3″ too short in the front-middle. Anyway I found that due to it's fundamental t-shirt-y nature, I always felt a little too much of a "eDgY tEeNaG3r" vibe from it.
Urban Outfitters taupe shawl-collar wool cardigan, 10 wears since Jan 2018 (secondhand from Facebook marketplace at least 5 years ago) – this was pretty cute and warm for the thickness, but I don't wear it too much anymore (length does not go as well with all my skirts) and it is super pilled. Like I'm pretty sure if I shaved the pills off, it would be so threadbare it would be sheer. I think it could still be wearable if you have like a boho/ragamuffin vibe going on in your closet but I like to keep a neat look overall.
Wish List
Long rain coat in a brighter color (green or red or yellow) – carried over. My semi-functional gray raincoat's zipper continues to annoy me and honestly, if you're going to be needing rain gear anyway, you might as well have more coverage and a color that is more visible to drivers. There are a few on LL Bean that looked promising but none of them were like OMG YES THAT ONE when I saw them, so I might keep looking for a while.
Black high-waisted skinny jeans – I have quite a few items I think I would wear more if I had some black jeggings again. I had 2-3 pairs before but I wore holes through the crotch in all of them (thin and spandex, it happens) and just never bothered replacing them after I found that my striaght-leg jeans worked really well. Also tbh I was quite burned out from the jeggings silhouette and I think I needed a break from it. But now I've had some breathing space I can see the niche they fill ("I want to wear leggings to work but I don't want to look too sloppy") is still relevant. Probably going to check out Goodwill for this first since this is a pretty common item. Kind of want to get some with some low-key distressing, but I think a "clean" pair will be more versatile. Black and white pinstripe skinnies also sound like they could be fun.
Light wash distressed high-waisted mom jeans  – more on this in my upcoming (yes, really) post on how I've divided my wardrobe into style subcategories. But basically I think a lot of my t-shirt collection would get more wear if I had a light wash jeans option. I was originally thinking of just getting the light wash version of my straight-leg pair since I know how that style fits me, but I think that getting a comparatively LOUD item that says "I am wearing this as a fashion choice, and not simply because jeans is the default". There is, of course, nothing wrong with defaulting to jeans and a tee most days if that's what you're into or if you just don't consider clothing a hobby, but personally I always enjoy my day more when I feel like I look like I have on an ~outfit~.
Light colored "outfit" sneakers – similar sentiment to above, although I'm thinking just a basic low-profile New Balance classics pair would be fine.
Long camel overcoat – carried over. I think this slipped off the list last month because I got the tan fleece bomber, but I think this would go with a lot of my outfits (it also appears in the majority of outfits on my inspiration board). I think the Aritzia Stedman coat is pretty much exactly what I want, but as it's so late in the season they are sold out of the style+colorway I want. Might have to wait for next year on this one, unless something pops up in consignment/thrift.
Mid toned formal/festive top with sleeves – carried over. I have a few skirts and pants that could work for more formal outings (mostly thinking of going to watch ballet performances in my case), but I realized that besides my green velvet camisole, I don't have any tuck-able tops in luxe fabrics so anything I pair these with will dress them down. I guess a dress would also be fine (I generally prefer dresses for formal events because then I don't have to fuss with the tuck throughout the day) but at this point I'm leaning more towards a top.
Purge Limbo
Brown chunky-knit acrylic sweater – I was super into this knit pattern when I bought it (it reminds me of tree bark!), but it turned out that the boxy cut did not drape well when tucked into things so I never wear it. I've only liked it in outfits with black skinny pants and black boots. I can see myself wearing it a bit more once I replace my black skinny jeans, but I'm feeling pretty meh about it and it takes up a lot of space.